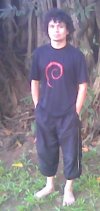 Anuradha Ratnaweera's Home Page
Welcome to Anuradha's little dwelling in cyberspace!
See Anuradha's photo blog, blog, and photo gallery for a more dynamic view of his life. He is also on Facebook and Instagram.
His brother's home page is here. An older version has more details and pictures.
You can reach him by emailing anuradha at taprobane dot org.
This page was created using vim, a popular clone of vi. Anuradha doesn't like to use word processors, because they are stupid and inefficient. ;-)
Software/tools
Anuradha's Interests
Here are some of Anuradha's geek encounters.
Links